Let's make sure there's funding for every student
Every penny raised by the Annual Give goes to support students at Jane Addams Middle School and is used to fully fund this year's budget.
Last year, 30% of JAMS families gave to the Annual Give, up from 20% the previous year.
Help us reach our 50% goal! Any amount you can give is the right amount. Learn more about what JAMS PTSA is funding in the upcoming weeks.
Volunteer hours are just as important as dollars donated. As part of our 50% participation goal for the Annual Give, any offer of volunteer hours will be included as participation.
Please consider helping at JAMS!
We thank you for your support and look forward to another amazing year at JAMS!
Kathy Gerke,  PTSA President
Robin Goodman, PTSA Fundraising Chair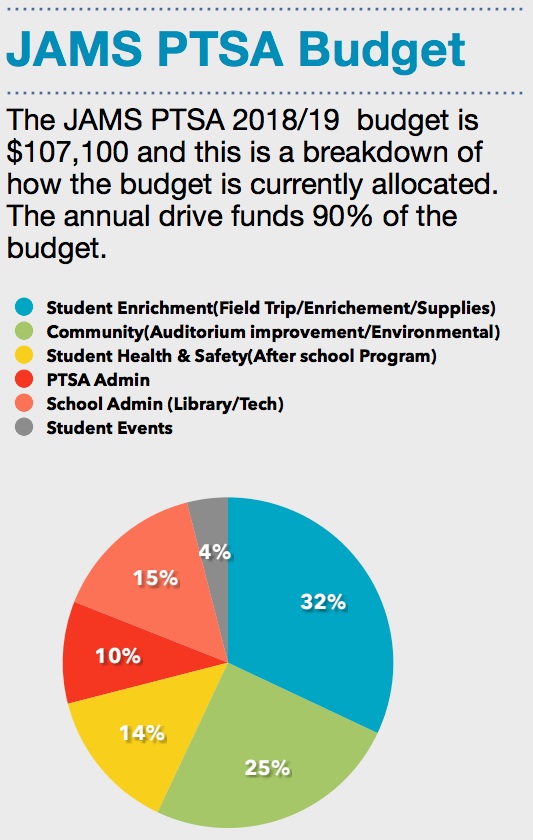 Corporate Matching
An easy way to double your contribution. PLEASE submit your donation information to your employer for corporate matching. Heather Cerne can assist with corporate matching: mhcerne@comcast.net
Don't miss the Golden Jaguar Advisory Class Challenge! Return this form to JAMS or donate online by October 31 to participate in the challenge. All advisory classes with 100% participation will join in the celebration!
100% = Completing the boxed area on the form WITH a parent/guardian signature.
IT'S TIME TO STEP IT UP AND SUPPORT OUR STUDENTS,
TEACHERS AND SCHOOL!
Go Jaguars!